Scientific Conference Program
FARA has organized and supported a number of scientific conferences to keep the field informed of research progress and build collaborations and synergistic connections between FA researchers. FARA's International Scientific Conference on Friedreich's Ataxia has grown over its three iterations demonstrating the remarkable research advances into the underlying mechanisms of FA and increased interest within the scientific research community.
International Ataxia Research Conference
About ARC-2015
Abstract submission and conference booking
Registration fees
Venue
Accommodation
Social programme
Local attractions
Sponsorship opportunities
Contact us
Register Now
About ARC-2015
ARC 2015 is a 4-day international research conference for academics and industry scientists interested in basic and translational research in the ataxias. It is hosted by Ataxia UK, Ataxia Ireland, US-based FARA (Friedreich's Ataxia Research Alliance) and Italy's GoFAR. The conference will include the following sessions, to cover a wide range of progressive ataxias, including Friedreich's ataxia and the spinocerebellar ataxias:
Session 1: New genes and developments in diagnosis of the ataxias
Session 2: Genetic and molecular mechanisms of the ataxias
Session 3: Cellular and animal models of the ataxias
Session 4: Cellular and systemic pathways
Session 5: Drug discovery and emerging therapeutic strategies
Session 6: Biomarkers and functional measures
Session 7: Clinical trials and trial design
Download the most recently updated programme
Scientific Steering Committee:
Paola Giunti, Barry Hunt, Michele Lufino, Giovanni Manfredi, Massimo Pandolfo, Hélène Puccio, Roberto Testi, Rob Wilson and representatives from Ataxia UK (Julie Greenfield), FARA (Jen Farmer) and GoFAR (Mina Ruggeri).
Conference Planning Committee:
Ataxia UK, Ataxia Ireland, FARA and GoFAR.
Abstract submission and conference booking
Both abstract submission and conference booking must be done via the ARC 2015 bookings website.
Due to high demand a second call for abstracts is being launched for poster presentations. In addition, a few spaces have been reserved on the programme for oral presentations that fit within a 'late breaking research' category.
The deadline for receiving abstracts is Monday 2 February 2015 (midnight GMT). Applicants will be informed of a decision by the end of February.
Using the conference booking website, you can:
view and modify your personal details

submit an abstract (one per user-id)

apply for a bursary (if eligible)

register for the conference


Create an invoice

pay the registration fees

(credit/debit card)

tell us about any special requirements you have
Registration fees
The early-bird discount cost of conference registration is £60 including VAT per person per day (this will increase to £70 if you book on or after January 13, 2015). The price includes lunch and refreshments. We have also negotiated a special rate for hotel accommodation at Beaumont Estate.
Bursaries/scholarships
A number of bursaries/scholarships of £520 are available to help with the cost of attending the conference.
In order to be eligible, you must be giving a poster or oral presentation and also be either a research student or a post-doc in your first position as such. Bursaries will be awarded based on the rating given by the reviewers for the abstract submission. Only one bursary will be awarded per lab. Successful applicants will be informed on 15 December.
Venue
Set near historic Windsor, Beaumont Estate is a majestic hotel and conference venue. Just 15 minutes from London Heathrow, close to the M3, M4 and M25 with direct train links into London, the hotel combines a world class, state of the art conference and event venue with a great spot for a Windsor break.
With 40 acres of beautiful grounds and gardens, Beaumont Estate is renowned for its stunning architecture and period features. In addition to the excellent conference facilities and comfortable accommodation, the venue has a fully equipped gymnasium, 20-metre heated indoor swimming pool, 2 outdoor tennis courts, an indoor squash court and a football pitch. There is a nature trail on site and guided walks of the local area are available.


Get directions to Beaumont Estate
Accommodation
We have negotiated special room rates with Beaumont Estate for ARC 2015 delegates for the duration of the conference. All prices include VAT, an evening meal and breakfast.
Tuesday 24 - Friday 27 March:
Single room: £90 per person (£100 per person on or after 2 February 2015)
Twin/double room: £65 per person (£75 per person on or after 2 February 2015)
Saturday 28 March:
Single room: £126 per person
Twin/double room: £75.50 per person
Social programme
Wednesday 25 March

The Neuroscience of Laughter


An after-dinner talk will be given by Professor Sophie Scott, Deputy Director, Institute of Cognitive Neuroscience, UCL. Prof Scott studied psychology at the Polytechnic of Central London followed by a PhD at UCL. She then worked in Cambridge at the MRC Applied Psychology Unit before returning to UCL to the newly established Institute for Cognitive Neuroscience. Prof Scott was awarded a Welcome Trust Fellowship in 2001. Her work addresses the neurobiology of human vocal behaviour and vocal communication from sound to speech.
Thursday 26 March
The Conference Dinner will take place in the historic city of Oxford, in the Assembly Room at Oxford Town Hall. Delegates will travel by coach to Oxford, where there will be some free time to explore the city, followed by pre-dinner drinks, dinner and after-dinner entertainment. There will be a £25 supplement to attend this event.
Local attractions
Windsor Castle
The historic town of Windsor is dominated by the stunning Windsor Castle. Open all year round, the castle is the most popular tourist attraction.
City Sightseeing Open Top Bus Tours
The city sightseeing bus tour of Windsor and Eton is a convenient, fun and interesting way to explore this wonderful area. There are 11 hop-on/hop-off stops including Eton College and the Long Walk. There are frequent services throughout the day.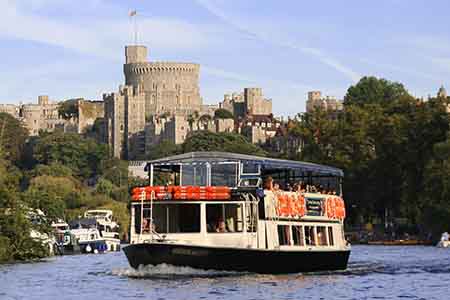 French Brothers Boat Trips
These relaxing boat trips will let you enjoy excellent views of Windsor and Eton from the river. There are 40-minute and 2-hour return trips available, with frequent services leaving the promenade.
Sponsorship opportunities
If your company is interested in supporting the International Ataxia Research Conference 2015, download our information about the range of great opportunities we can offer.
Contact us
If you have question about abstract submission, please email research@ataxia.org.uk. Otherwise if your question is about the conference booking process, please email conferences@ataxia.org.uk.
Conference History
On the day following FARA's incorporation, the new organization submitted a grant application to the National Institutes of Health (NIH) for the first International Scientific Conference on Friedreich's Ataxia convened April 1999.
2006 - 3rd FARA International Conference (3 days)
150 scientists from 12 countries,
6 pharmaceutical companies and 6 advocacy groups
2003 - 2nd FARA International Conference (5 days)
100 scientists from 12 countries,
4 pharmaceutical companies and 4 advocacy groups
1999 - 1st FARA International Conference 3 days)
80 scientists from around the world,
zero pharmaceutical companies and one advocacy group
Research Abstracts from meetings can be found in the right hand column.
In the interim time between its International Conferences on Friedreich's Ataxia, FARA helped support the Ataxia Investigators Meeting held in 2006 and 2008.
Summit Meetings
FARA has also convened summit meetings to focus on significant areas of FA research such as cardiology and mitochondrial function. Such meetings facilitate in-depth discussions among experts and advance a specific research need.
Cardiac Summits
In 2007, a Cardiac Summit was convened of leading cardiologists and researchers gathered to discuss FA related cardiology issues. One of the primary outcomes of this meeting was the documentation of gaps in knowledge regarding cardiac disease in FA and the assignment of research teams to begin work in these areas. To further support these efforts, FARA and the American Heart Association formed a new partnership to co-fund grants. Proceedings of this meeting are posted on the right.

In a continued effort to bring more research and attention to cardiac involvement in FA, the 2nd FA Cardiac Summit was held on June 11, 2010. Twenty participants were invited, representing diverse areas of basic science, clinical research, and cardiology. One of the goals of the meeting was to identify clinical and basic science questions that are important to solve to better understand cardiac disease in FA, such as establishing hypotheses and explanations for how mitochondrial dysfunction in FA might lead to cardiac disease in FA. One outcome of the meeting was overwhelming consensus and support for achieving improvements in cardiac care for individuals with FA. This will be done through the development of standards of care and further development of the cardiac expertise at our Collaborative Clinical Research Network in FA sites and beyond.
Mitochondrial Summit
FARA also co-sponsored a Mitochondrial Summit with the Muscular Dystrophy Association, on May 20-21, 2008, to share and discuss approaches, insights, and mechanisms that suggest new therapeutics for mitochondrial neurodegenerative diseases.
Therapeutics Symposium
More than 100 FA researchers and our advocacy partners from around the world gathered July 15-17, 2009 for the FA Therapeutics Symposium in Philadelphia, PA. Presentations and discussions highlighted:
progress in the development of previously identified therapeutic candidates, such as HDACI and TAT-Frataxin results from clinical trials including the Phase I study of A0001 and Phase III of Idebenone
recent discoveries that point to new therapies
advancements in new cell models and drug discovery and development assays
clinical research including biomarker studies and new clinical outcome measures
Cellular Models
The availability of well-characterized cellular models is highly beneficial for drug discovery and testing, as well as for developing gene and stem cell therapies. To facilitate communication, cooperation, and collaboration among researchers various types of cellular models, especially iPS-based neuronal and cardiac models, the Cellular Models and Cell Therapy meeting was held in Chicago in March, 2010. One of the key outcomes of the meeting was consensus on the need for reproducible, stable, well-characterized FA iPS cell lines that are appropriate for research (including drug screening), maintained in a reputable facility, and distributed among researchers.
Many thanks to all our sponsors
for their support!
Sponsorship opportunities
are still available
CHOP FA Symposium
2014 Poster Session Abstracts
International Conference on Friedreich's Ataxia Research Abstracts
Cardiac Summit Outcomes